Jobs
Fort Morgan, CO, USA

$47,500

Salary

Full Time
Benefits include health, life, dental insurance LTD, & benefit package in accordance with Colorado Community College and Occupational Education System policies. No relocation assistance is provided.
---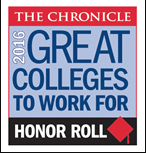 Position Location: Position is located in Fort Morgan, CO
Employment Specifics: Full-Time, Professional/Technical
Position Description: This position ensures high quality and efficient delivery of instructional courses and materials using a variety of technology systems, including distance and online systems. This position is responsible for technical support, maintenance, and troubleshooting of technological systems and implementation of new technologies. Trains and provides real-time support to faculty and staff in the use of distance education technology equipment and systems. Responsible for the inventory of instructional distance delivery resources and equipment. Provides educational public-access channel programs and college sound systems. The position may work after hours and/or on Saturdays, and travels throughout the college service area and to meetings as needed.
For information about MCC, see the college web site: www.morgancc.edu
Required Qualifications:
Bachelor's degree from an accredited institution, preferably in a technology-related field. A combination of education and experience equivalent to a Bachelor's degree may substitute.
One (1) year of experience installing, modifying, repairing or maintenance of any of the following: distance or online learning systems, audio/video equipment, video conferencing, and/or instructional media equipment.

Excellent oral and written communications skills along with having an excellent customer service attitude.

Must be dependable, self-motivated and possess strong organizational and time management skills.

Must be detail oriented and have the ability to handle multiple tasks and prioritize duties, with ability to solve problems and meet deadlines.

Ability to work as a team member to effectively solve problems.

Working knowledge of MSOffice.

Must be able to return to the campus in Fort Morgan within 20 minutes after regular working hours as needed, and be willing to work occasional evenings and Saturdays.

Must be able to travel as needed within the College's service area, and to meetings and conferences as required.
Preferred Qualifications:
Work experience in higher education
Experience with the following: video production including recording/editing, network and/or computer multimedia equipment
Software including Desire2Learn (Brightspace), Adobe Premier, Leightronix (TV Programming system) sound systems and Extron integrated control systems, audio and video equipment, projectors.

Experience with Laerdal simulation technology (health).
Anticipated Start Date: October 1, 2017
Salary: $47,500 annually; based on level of education, skills and experience.
Benefits include health, life, dental insurance LTD, & benefit package in accordance with Colorado Community College and Occupational Education System policies. No relocation assistance is provided.
Application Procedures: Review of applications is ongoing. For maximum consideration, application packet must be received by 09/11/2017. All applicants must use the following link to apply: https://morgancc.applicantpro.com/jobs/. All required documents can be uploaded using this link. Complete application packets include:

Cover Letter responding to the position description and required qualifications
Incomplete application packets may not be considered.
Selection Procedure: Candidates will be evaluated on the basis of their qualifications as related to the duties & responsibilities of the position. Final candidates will be invited to travel to the College, at their own expense, to interview with the Screening Committee & college officials.
MORGAN COMMUNITY COLLEGE is one of 13 colleges comprising the Community College of Colorado. Service area. Morgan Community College is located on I-76, 80 miles northeast of Denver and approximately 100 miles east of the Rocky Mountains. Morgan Community College provides quality lower division and occupational education through innovative and non-traditional delivery to an 11,500 square mile service area in eastern Colorado. The College serves this vast, rural, agricultural area from its main campus in Fort Morgan and through four sites located 75 to 150 miles from the main campus. Students are enrolled in traditional classes, distance learning including multiple fiber networks and online classes. The College is seeking dynamic, creative individuals who are committed to the community college philosophy, student success, and public service. If you are seeking a rural or small community life style, with excellent conditions for families; closeness to a major metropolitan area and year-round recreation and natural beauty; and a dynamic, forward-looking workplace, this position may be for you!
NOTE: Finalist must submit to and successfully pass a post-offer, pre-employment background check as a condition of hire. It is Morgan Community College's procedure to conduct pre-employment background checks on all employment finalists to determine or verify background information, including criminal history, references from previous employment, qualifications, and, when applicable, driving history. Employment offers are contingent upon receiving a satisfactory report.
IMPORTANT NOTE TO APPLICANTS: FORMER EMPLOYEES OF COLORADO COMMUNITY COLLEGE SYSTEM OR ONE OF ITS 13 COLLEGES, WHO WERE DISCIPLINARILY TERMINATED OR RESIGNED IN LIEU OF TERMINATION, MUST DISCLOSE THIS INFORMATION ON YOUR APPLICATION.
NOTICE TO ALL APPLICANTS: Morgan Community College must comply with the Immigration Reform and Control Act/1986. If you are hired, you will be required to provide documents to show your identity and your authorization to work. The law applies to all persons hired.
Colorado Fiscal rules require all new hires to be placed on the Direct Deposit Payroll Program.
Morgan Community College publishes its Annual Campus Security Report in its entirety on the MCC website: www.morgancc.edu. The categories reported are: 1) Murder/Non-negligent manslaughter, 2) Forcible sex offenses including forcible rape, 3) Non-forcible sex offenses, 4) Robbery, 5) Aggravated assault, 6) Burglary, 7) Motor vehicle theft, 8) Arson, 9) Negligent manslaughter, 10) simple assault (pertaining to Hate Offenses), 11) Liquor law violations, 12) Drug law violations, and 13) Illegal weapons possessions. Upon request, an individual may receive a paper copy by addressing the request in writing to: Vice President of Student Success, Morgan Community College, 920 Barlow Road, Fort Morgan, CO 80701.
As a condition of employment, each employee shall agree to abide by MCC's Drug-Free Workplace Policy Statement. It is the policy of Morgan Community College that the unlawful manufacture, distribution, dispensation, possession or use of a controlled substance in the workplace by an employee is prohibited. Any employee who violates this policy will be subject to appropriate disciplinary actions, which may include termination. The policy in its entirety may be found on the MCC website: www.morgancc.edu.
Morgan Community College prohibits all forms of discrimination and harassment including those that violate federal and state law, or the State Board for Community Colleges and Occupational Education Board Policies 3-120 or 4-120. The College does not discriminate on the basis of sex/gender, race, color, age, creed, national or ethnic origin, physical or mental disability, veteran status, pregnancy status, religion, genetic information, gender identity, or sexual orientation in its employment practices or educational programs and activities. Morgan Community College will take appropriate steps to ensure that the lack of English language skills will not be a barrier to admission and participation in vocational education programs.
For information regarding civil rights compliance or grievance procedures contact:
Julie Beydler, Affirmative Action/Equal Opportunity Officer; Deputy Title IX Coordinator: Director of Human Resources 920 Barlow Road Fort Morgan, CO 80701 (970) 542-3129. Julie.Beydler@morgancc.edu

Title IX Coordinator: Susan Clough Vice President for Administration and Finance 920 Barlow Road Fort Morgan, CO 80701 (970) 542-3127. Susan.Clough@morgancc.edu
You may also contact the Office for Civil Rights, U.S. Department of Education, Region VIII, Federal Office Building, 1244 North Speer Boulevard, Suite 310, Denver, CO 80204, telephone (303) 844-3417.
Qualified protected class Individuals are encouraged to apply.